Staying this weekend at our
Barcelona Hostel
? There are several cheap & discount activities in the city, you can enjoy them saving your money, great for
Barcelona Backpackers
.
We have some suggestions for you, many activities taking place in the city ... and specially one of them is a must if you come to Barcelona.
Barcelona Hostel
recommended to visit
Museu Blau
(the Blue Museum)
opens with the exhibition "Living Planet".
The Forum building with blue triangular appearance, designed by Swiss architects Jacques Herzog and Pierre de Meuron opened yesterday to the public under the name of Museu Blau, an extension of the Museum of Natural Sciences at last makes sense of a space of 9,000 square feet on two floors.
You can visit an exhibition called "Living Planet" includes more than 4,500 pieces from the funds of the Museum of Natural Science, from rocks and minerals to plants, through reproductions of virus, animals and fossils. The exhibition is divided into three parts, although in this first phase has only been submitted today called Earth, which occupies 1,700 square meters and explains the current state of the planet, and geological and biological diversity. In June opened the other two areas, called the biography of the Earth and life Laboratories, which will review the history of evolution and the origin of life on the planet. And in June it will install the spectacular whale skeleton presiding over the old museum of the Citadel, which suffered an accident during the removal work for traslado.Una cafeteria, media center, chill-out areas, classrooms and a hall acts complete the offer of the museum over the next three months will be free. More info:
Museu Blau
.
Take the line T4-Ciutadella/Vila Olímpica - Estacio de Sant Adrià of Tramvia at the station Ca l'Aranyó and after 5 stops you must get off at Fòrum.

Another recomendation of
Barcelona Hostel
is see the best video clips at Zoomvi: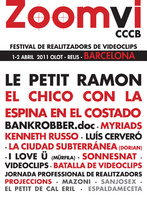 The Festival de Realitzadors de Videoclips de Catalunya, Zoomvi, lands in Barcelona at the CCCB on 1 and 2 April to show the best productions created by audiovisual and music fans.

The festival is held simultaneously in Barcelona, Reus and Olot. The finalists in the 2010 competition will be screened, along with the documentary Bankrobber.doc, various video clip projects will be presented and there will also be a battle of video clips. Plus there will be concerts, with Le Petit Ramon and Myriads, for example, where video clip projections will be mixed with the live music.

A unique opportunity, then, for fans and producers to exchange practices and experiences.

Place:
Center of Contemporary Culture of Barcelona Address: C Montealegre, 5 District: Ciutat Vella. More info: http://www.cccb.org/


Take the Renfe line C1 (Badalona / L´Hospitalet del Llobregat) at the station El Clot-Aragó -just in front of our
Barcelona Urbany Hostel
- and after 2 stops you must get off at Plaça Catalunya station.
You can also
run on the beach and enjoy the wonderful time in town!